[ad_1]

For centuries, when invaders from across the Indian Ocean, and later the Mughals, overran Maharashtra's
Raigad district
on the west coast of India, one village remained unconquered.
Fauji Aambavade's residents beat back the conquerors then and at least one member of the 300 families thereafter has either been a soldier with the British Indian army or the Indian army now. Vasudev Pawar, sarpanch between 1974 and 1994, maintains all historical references to the village. "Our village is known for its bravery since the 16th century. We fought with Chhatrapati Shivaji Maharaj repulsing numerous attacks by the Mughals. Patriotism runs deep here. About 300 ex-servicemen live in this village and an equal number are in the Indian Army," he said.
Since some families have moved to Pune and Mumbai, they do not have an exact count of those signing up but two youths, Pawar said, are all set to join Maratha Light Infantry after they cleared the ground and medical tests at a recent recruitment rally in Kolhapur. "They will become Maratha soldiers in a few weeks," a proud Pawar said. Getting there is sheer determination for the village youths who live in spread out dwellings far away from schools. Their population is just 1,500.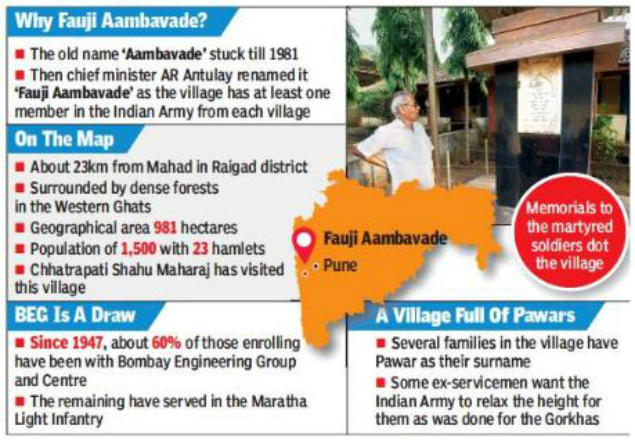 Village records show that as many as 565 soldiers from Fauji Aambavade have fought in the wars since independence. Till 2000, the village had 27 junior commissioned officers, nine honorary captains and gallantry medal awardees including a Sena Medal. Ancestors who fought in World War I and World War II and won recognition from the British are local legends. The village has a memorial to commemorate the contributions of five soldiers of the 111 who attained martyrdom while fighting in Mesopotamia (in present day Iraq) in World War I.
A few metres from the memorial lives 101-year-old Parvati, wife of Sitaram Pawar who died in WWI, still drawing a pension. The elderly veterans have stories about other wars. Ramchandra Sakharam Pawar, a Bombay Sapper who fought in the 1962 India-China war, was a Prisoner of War (PoW) for a month. "We were captured by the Chinese army. They (the Chinese) were brutal. They would beat us up regularly. I still have searing pain in my left leg, a reminder of the tough days as a PoW," he recalled.

His son Rajesh Pawar is a Naib Subedar, a junior commissioned officer, with Bombay Engineering Group and Centre. Subedar Shriram Shantaram Pawar, who retired from 267 engineer regiment of BEG, is the sixth- generation of his family to serve in the army. He treasures a vintage sword and a javelin belonging to his ancestors.
"My great-great grandfather and great grandfather served in the army of Sayajirao Gaekwad, the Maharaja of Baroda. My grandfather and father fought in WWI and WWII, respectively. I was a part of the Kargil War in Baramulla sector in 1999. My son Samir is a havildar with the BEG. We are proud to serve our country for centuries and want the tradition to continue," he said. Local heroes like Veer Manohar Pawar, who won the Sena medal for exceptional bravery in the 1971 India-Pak war, and Manoj Ramchandra Pawar from 12 Maratha Light Infantry, who died in Leh-Ladakh during patrolling in 2003, are part of folklore. Both have been honoured with memorials in the village.
Many youngsters from Fauji Aambavade don't give any other career a thought. "Our village has a rich history and we are proud of it. I want to become a soldier and serve the nation," says Akash Pawar, a standard IX student.
[ad_2]

Source link