[ad_1]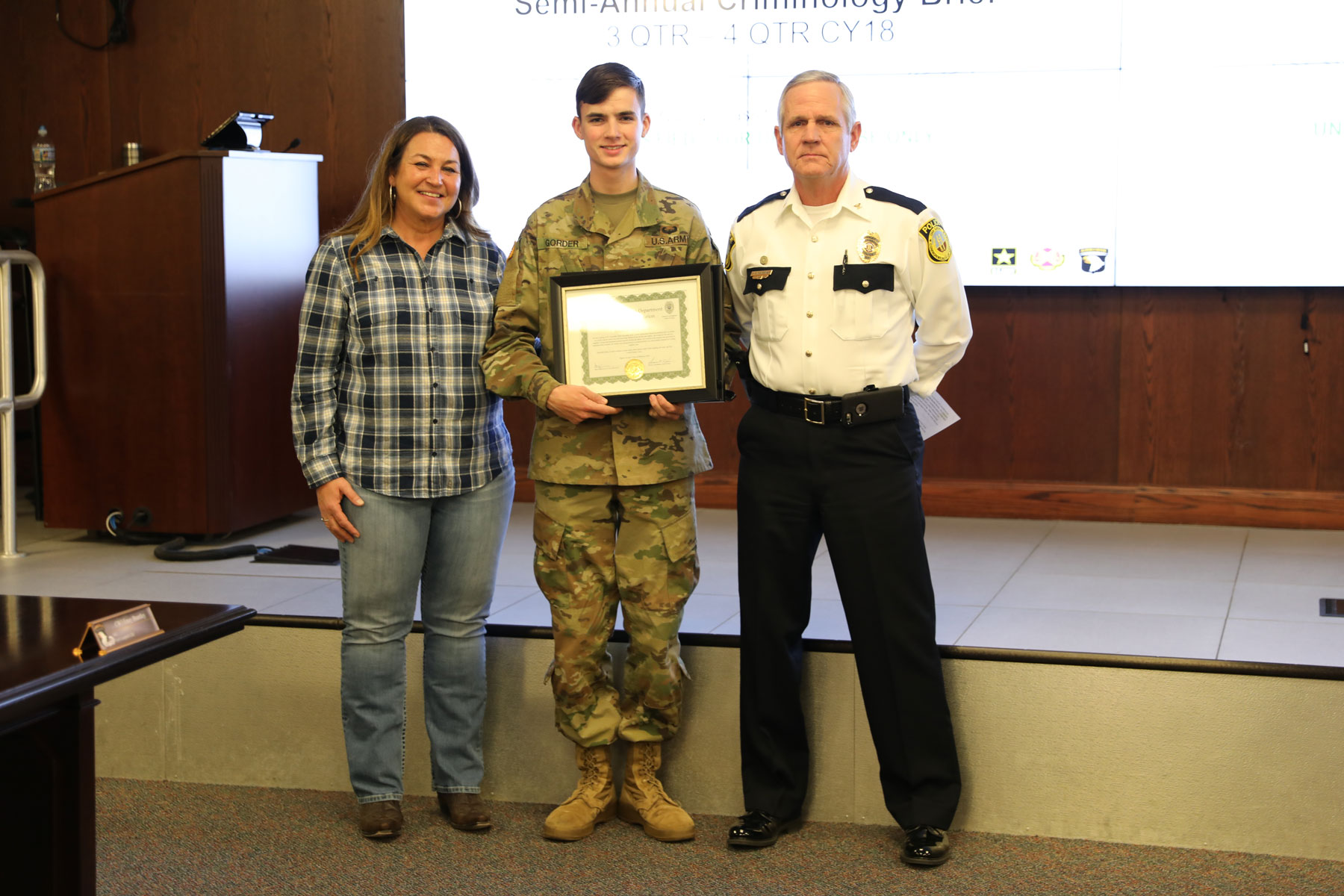 FORT CAMPBELL, Ky. — Members of the Oak Grove City Police Department visited Fort Campbell, March 6, to say 'Thank you' to a "Bastogne" soldier for providing lifesaving first aid to his neighbor during a home invasion last year.
Oak Grove City Chief of Police Dennis Cunningham and Mayor Theresa Jarvis presented letters of appreciation to Spc. Sebatian Gorder, a combat medic assigned to Headquarters and Headquarters Battery, 2nd Battalion, 32nd Field Artillery Regiment, 1st Brigade Combat Team, 101st Abn. Div, for the action he and his wife, Kaily, took on the evening of Dec. 8, 2018.
Cunningham said it is all too often that people remember the negative interactions between the military and local law enforcement agencies that sometimes results in soldiers making an unwanted appearance on the evening news.
"It is not often that soldiers are recognized for their positive interactions with those same law enforcement agencies," Cunningham said. "However, they occur more often then what some may think. From assisting law enforcement at accident scenes, to traffic control, to helping law enforcement during local emergencies, that assistance stands out above and beyond the point of just being a good Samaritan."
On the evening of December 5, 2018, the Gorders were relaxing at their Oak Grove, Ky., home. They had just moved in, and this was their third night in their new residence. Sebatian said he heard loud thumping sounds coming from next door while he was in the shower. Kaily, also a combat medic who is currently deployed to Kuwait with Troop B, 1st Battalion, 32nd Cavalry Regiment, 1st BCT, went into the bathroom and asked her husband if he heard the same sounds she also heard.
"My first thought was that maybe it was a dog," Sebatian said. "But, then I realized that we were not supposed to have dogs in our neighborhood."
The thumping sound turned into crashing and yelling, and it became clear to the Gorders that something was wrong.
"I was concerned for the wellbeing of my neighbors," Sebatian said. "It sounded like something potentially bad was happening."
The Gorders noticed that the neighbors had friends and family staying with them for the holidays and wondered what could possibly be going on. Unknown to them at the time, an armed man had invaded their neighbors' home and was, at that moment, attacking the occupants with a large knife.
The Gorders went out to their back deck to check on their new neighbors. When they reached their back door, two of the neighbor's family members were calling emergency services while frantically running to the Gorders to ask for help. Suddenly, a young man fell through the back door and sprawled out on to the deck of his home. Realizing that their neighbors were under attack, the Gorders sprang into action.
Without fear for their own safety, in an act of selfless service, they grabbed a first aid bag from their home and hurried to reach the wounded man.
"My wife and I looked at each other and said 'Let's see what we can do,'" said Sebatian. "I was just worried about the welfare of all the individuals involved."
When Sebatian reached the deck, he realized the railing was well over six-feet high. He quickly jumped up on a nearby air-conditioning unit and vaulted over the railing and onto the raised deck where the injured man was laying.
The Gorders began to render lifesaving first aid to the wounded man who had suffered several deep wounds to his hands, arms and chest. The couple continued to help their neighbor until Oak Grove Police and emergency services arrived, secured the scene, and transported the victims to a medical facility.
"When the police arrived my first thought was 'Thank God, this isn't going to get any worse than it already is,'" Sebatian said. "I mean it could have, but the situation was pretty much handled at that point."
Sabastian credits his and his wife's quick action and response to their Army training as combat medics.
"When you're in a stressful situation, sometimes you can get bamboozled, for lack of a better term, because the stress can be overwhelming," said Sebatian. "But, through what the Army taught me, and by putting me in stressful situations over and over again while giving me a task to complete during those situations, it [treating the victim] was like second nature."
© Copyright 2019 Army.mil/News. All rights reserved. This material may not be published, broadcast, rewritten or redistributed.
[ad_2]

Source link