[ad_1]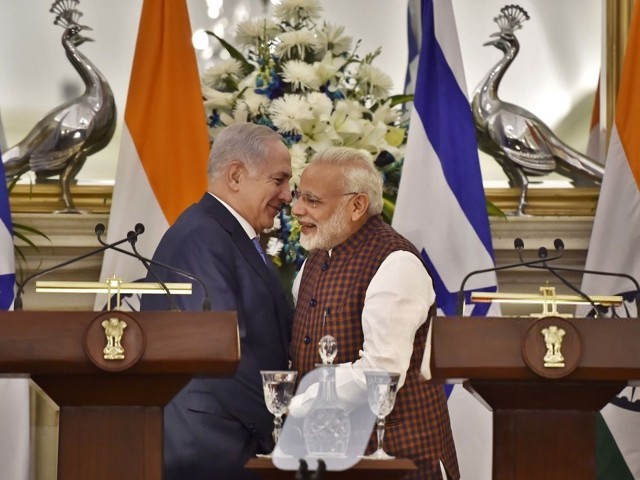 On February 27th, Israeli news publication Haaretz reported that India's Air Force had used Israeli-made bombs in its recent Line of Control (LoC) violation against Pakistan, citing local news websites which had been briefed by Indian security sources.
The reports allege that 'five Mirage jets armed with Israeli-made Spice 2000 smart missiles attacked what New Delhi says was a terrorist training camp' in Pakistan. While quietly hidden by the mainstream media, it actually transpires that Israel is a key weapons supplier to the Indian Army, with its current relationship estimated at approximately a billion dollars each year. In fact, India has become the largest weapons market for Israel's bombing arms trade, spending hundreds of millions of dollars on Israeli air defence, radar systems and ammunition.
Thanks in part to veteran journalist Robert Fisk, this issue has now been brought out into the mainstream narrative. As outlined by Fisk, the ties between the two nations run a bit deeper than the arms exports and provision of weapons which have now been used to bomb Pakistan.
For instance, Israel has been aligning itself with India's nationalist Bharatiya Janata Party (BJP) government, in part of what has become known an 'anti-Islamist' coalition.
It is rarely mentioned in general that aside from going to war with Iran and wiping out as much of Palestinian existence as possible, Israel's ambition for the region is to become one of the major, if not the top, arms exporter. This has been going on for quite some time. In fact, the usual go-to trope that the US should support Israel because it is the "only democracy" in the Middle East rapidly comes undone when you look at the types of regimes that Israel sells its arms to.
Between 2013 and 2017, Israel's biggest arms-dealing clients were India, Azerbaijan and Vietnam. It has also been selling tanks, weapons and boats to the dictatorship in Myanmar, even while it continues to brutally oppress its Rohingya population.
It seems to be this 'anti-Islamist' element which naturally draws the eye of the Israeli arms trade and political support. In his first visit to India last year, Israeli Prime Minister Benjamin Netanyahu immediately drew anti-Islamist parallels between India and Israel by noting the 2008 attacks on Mumbai which killed scores of civilians, stating that,
"Indians and Israelis know too well the pain of terrorist attacks."
Only in Netanyahu's world could this issue be simplified to this extent. Pakistan has "bad Muslim people" that want to hurt India, and India should receive Israeli support in order to counter this threat from its neighbour. Never mind that, as Fisk did well to note, India itself has one of the largest Muslim populations in the world. It is never as simple as the "us versus them" mentality which Netanyahu often seems intent on formulating.
According to a Pakistani publication, India and Israel had been plotting to attack Pakistan back in February. Allegedly, Israel was hoping to expose a dent in Pakistan's nuclear assets, which are not to be written off lightly either. This report has also been completely ignored by western media, even while more and more reports emerge indicating Indo-Israel cooperation on the Pakistan issue.
That being said, everything appears to be happening for a reason. In light of these recent revelations, a Pakistani daily lamented that Islamabad should develop ties with Israel to counter the "worrying" India-Israel "nexus". Right now, Israel and Pakistan do not have diplomatic ties. However, perhaps now Pakistan won't have a choice but to open up some meaningful dialogue with Israel, with the ultimate goal being to avert a catastrophic war in the region. Israel will likely be on board with developing relations with Pakistan, especially if certain reports are true that Saudi Arabia is attempting to rein Pakistan in its anti-Iran, so-called 'Arab NATO'.
As intriguing (and yet unsurprising) as these revelations are, the more curious development confirmed further down the aforementioned Haaretz report is that several reporters, including one that worked for the Associated Press, ventured to the site of India's bombing near the town of Balakot. What they found there was,
"Several large craters, a few upended trees and villagers wondering why they had been targeted."
Furthermore, Balakot Police Chief Saghir Hussain Shah also said he had sent teams to the areas hit by the bombs and found a mostly deserted, wooded area.
So, as is often the case, the media has incessantly parroted the usual narrative that India bombed a terrorist training camp in Pakistan without question, even though the answer is staring them right in the face. If western media are only finding bewildered villagers who are unsure why Pakistan's fields were bombed by India, it seems to suggest that India's account of what went down is probably not at all that genuine or accurate.
But don't expect the media to talk openly about any of these connections anytime soon. Because at the end of the day, perhaps the real issue at play isn't that India and Pakistan have a deep need to fight a conflict and amass a potential nuclear holocaust. Perhaps it is that Israel's concealed role in the conflict is designed to ignite an already volatile region, and help destabilise a country right on Iran's border, further plunging its number one adversary into turmoil.


[ad_2]

Source link