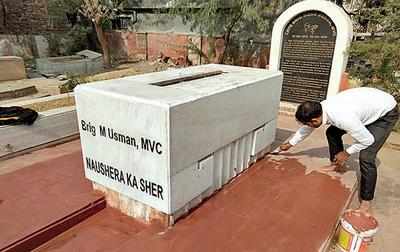 New Delhi: Only a few days after it was noticed that the grave of war hero Brigadier Mohammad Usman was in a state of disrepair, the Indian Army on Thursday finished the restoration work. The Army got the marble epitaph repaired. It now reads: 'Brig M Usman, MVC, Naushera ka Sher.'
Colonel (retired) Gopal Singh earlier visited the grave after the news of it being damaged came out. He told TOI that "we had told the Jamia authorities that we will get the grave repaired in the next few days, but it is clear that the Army got it done in less than a week's time. This was bound to happen as he is an icon and a war hero who inspires us all."
Brigadier Usman was martyred during the first India-Pakistan war on July 3, 1948. It was mass communication student Umar Ashraf who found out the damage to the grave, present inside Batla House graveyard near Jamia Millia Islamia.
"Our purpose was to shed light on graves of all famous icons that are in bad shape. Even graves of Unani medicine Hakim Ajmal Khan and theatre doyen Ebrahim Alkazi are in bad shape," said the MA student.
The graveyard also houses the graves of Jamia's former VC and important figures like freedom fighter MA Ansari.
FacebookTwitterLinkedinEMail