LUCKNOW/ NAGPUR: An engineer of BrahMos Aerospace Pvt Ltd associated with its missile projects in Nagpur was arrested on Monday in a joint operation by the
Uttar Pradesh
Anti-Terrorist Squad (UP ATS), its Maharashtra counterpart and Military Intelligence on charges of passing on classified information about the project to Pakistan's ISI.
Two of his colleagues, a woman from Kanpur and a man from Agra, are also under the scanner for their suspected role in the racket.
The arrested engineer, Nishant Agarwal, was a senior systems engineer at BrahMos Aerospace's unit at Butibori, near Nagpur. In his mid-20s, Agarwal headed the Hydraulics-Pneumatics and Warhead Integration wing of BrahMos' production department.
Highly placed sources in the ATS revealed that Agarwal had used a "coded game" to send vital information to ISI agents in Pakistan. Efforts were on to decode the gaming codes and decrypt the information, the sources added.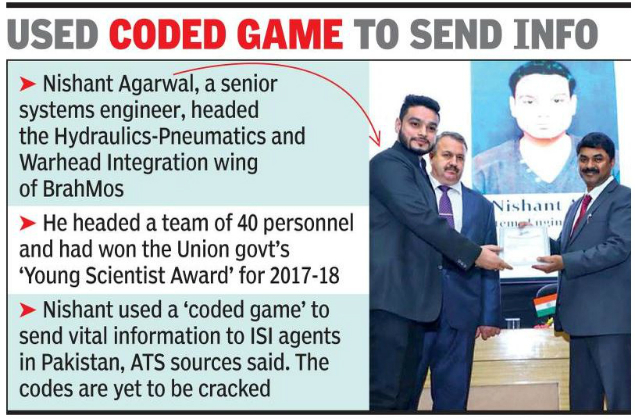 UP ATS IG Asim Arun said Agarwal's name surfaced during the interrogation of BSF jawan Achyutanand Mishra, arrested from Delhi last month after he was honey-trapped.
The UP ATS team landed in Nagpur on Sunday night and swooped down on Agarwal's rented accommodation in Ujjwal Nagar, a middle class locality. According to his neighbours, cops came in a car around 5am on Monday and entered Agarwal's house by scaling the wall. The ATS team interrogated him till afternoon as curious neighbours stood outside. He was later arrested under the Official Secrets Act.
Agarwal was managing a team of 40 personnel, including systems engineers, technical supervisors and technicians. He was also supervising the new projects at BrahMos' sites in Nagpur and Pilani, UP ATS officials said, adding that he had won the government's 'Young Scientist Award' for 2017-18.
BSF jawan Mishra is accused of sending photos and videos of 3D model of BSF Academy, arms and ammunition on WhatsApp to an ISI agent. "Following this, we had scanned profiles of some other women on Facebook and found that a woman who impersonated herself as an employee of a US company befriended Agarwal in 2016. She later lured him to work for her by offering a handsome job and salary. Probe revealed that the profile was of a woman belonging to Pakistan," Arun said.
After the arrest, the cops recovered Agarwal's laptop, which carried information about the BrahMos project. How he transferred this information to the laptop is being investigated. Arun said storing the information in the laptop was a violation of the Official Secrets Act, under which Agarwal has been booked. Another laptop from Agarwal's house has also been seized.
Officials at the BrahMos unit were also questioned by the sleuths. UP DGP OP Singh said Agarwal will be produced in a Nagpur court, where ATS will seek his transit remand to bring him to Lucknow for detailed questioning. Singh said UP police brass is in touch with the central intelligence agencies for verification of the material seized from Agarwal. ATS also searched the premises of Agarwal's colleagues in Kanpur and Agra, but nothing significant has been recovered so far. Both the colleagues are also engineers.
Agarwal's landlord in Nagpur, Manohar Kale, a retired central PSU employee, said Agrawal got married in March this year. The neighbourhood knew him as a well-dressed tenant of the Kales.
He isn't capable of anything like this, says dad
Nishant Agarwal father PK Agarwal, a retired senior medical officer of a civil hospital, told TOI in Roorkee he believed his son was being framed. "I know he is not capable of doing anything like this. Let an investigation be done and the truth will come out," he said.