British poverty campaigners have called for an emergency cash support scheme to help struggling low-income households after UK food bank charities reported that the first full month of coronavirus lockdown was their "busiest ever".
The charities said their experience of record food bank use in April, following a huge surge in food aid in March, showed it was clear that current social security safety net measures were not enough to prevent poorer families being swept into destitution.
The Trussell Trust, the UK's biggest food bank network, said it gave out 89% more food parcels in April, compared to the same month last year, while the Independent Food Aid Network (Ifan) recorded a 175% increase over the same period.
The number of families with children who received food parcels almost doubled in April compared to the the same period last year, the Trussell Trust said, a rise it described as unprecedented.
Updated

Brazil deaths pass 30,000 after record daily rise
A record 1,262 Covid-19 deaths have been recorded in Brazil today – taking the country's total death toll to 31,199 – but the president continues to downplay the pandemic.
The figures were announced on Tuesday evening by Brazil's health ministry, which also said the number of coronavirus cases had risen to 555,383, second only to the United States.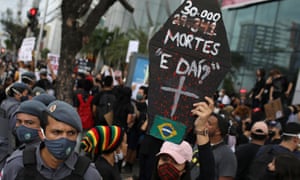 The South American country is now on the verge of overtaking Italy, where 33,530 deaths have been recorded, as the country with the third highest number of deaths.
But Brazil's far-right president, Jair Bolsonaro, who has dismissed Covid-19 as a "little flu", again brushed off the tragedy on Tuesday.
"I regret each of the deaths – but that's everyone's destiny," Bolsonaro told supporters outside his palace in the capitalBrasília.
Brazil's most populous state, São Paulo, registered a record number of deaths on Tuesday taking the total number of fatalities there to nearly 8,000. Rio de Janeiro has Brazil's second highest death toll with 5,686 deaths, followed by the northeastern state of Ceará where 3,421 people have died.
For all Bolsonaro's dismissiveness, scientists and medical experts believe the situation is dire and likely to get worse. "Not even in our most dreadful nightmare could we have imagined the situation we are now in," Drauzio Varella, a doctor and broadcaster, wrote in one of Brazil's top newspapers last week.
India evacuates 100,000 from homes, virus hospital ahead of cyclone