NEW DELHI: The
owner
and
manager
of Eat Love Fun (ELF)
cafe
in Hauz Khas Village were arrested on Saturday night on charges of illegally serving
liquor
to customers without a licence.
The raid was conducted by the excise department and Delhi Police. An FIR has been registered at Safdarjung Enclave police station.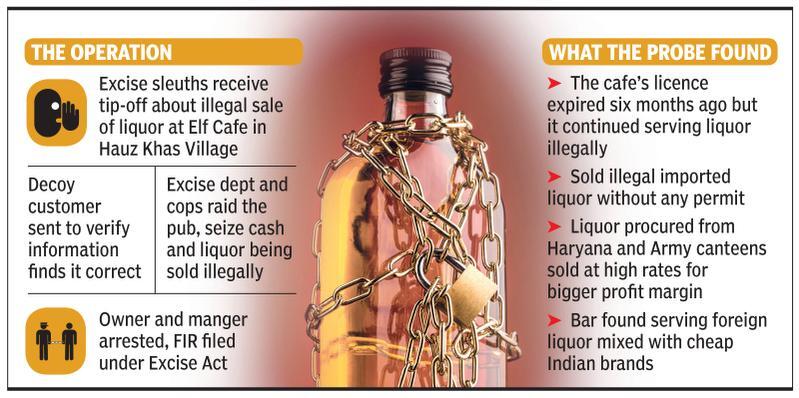 The owner, Danish Khan, and the manager, Rajiv, are residents of Malviya Nagar. The role of other employees and the management is being probed, police said. DCP (southwest) Devender Arya confirmed the arrests.
"We developed information about the racket of illegal sale of liquor in bars, licensed hotels and farmhouses through informers after getting directions from senior officers. A tip-off was received by SI Vishal and other policemen about the illegal bar being run in Hauz Khas Village after which a raid was conducted," said a police officer.
The cafe's licence had expired six months ago, but they continued to serve liquor without renewing it thereby causing loss of revenue to the exchequer, the FIR filed by ASI Satya Pal stated. Khan reportedly told police that imported liquor was being sold at the club without a permit. They had also procured liquor from Haryana and the Indian Army CSD canteen at subsidised rates and sold them at high prices.

The FIR added that the pub was serving foreign liquor mixed with cheap Indian liquor. The customers were, however, being charged for the imported brands.
The excise department officials have seized a huge quantity of sealed liquor bottles, including 140 bottles (330ml) of imported beer, eight bottles of scotch and four bottles of vodka. They have "For Sale in Haryana" or "For Defence Services Only" stamped on them, a senior officer said. A large quantity of whiskey, beer and vodka in open bottles were also seized, apart from computerised bills and Rs 7,700 in cash. Many of the bills were paid by customers using cards through POS machines.
TOI tried to contact several representatives of the cafe for their comments, but failed to get a response. Calls and text messages went unanswered. One of the representatives picked up the call only to provide his senior's number, which was found switched off.
Police have invoked sections 33 (unlawful import, export, transport, manufacture, possession and sale of liquor) and 38 (possession of liquor illegally imported without payment of duty) of Excise Act. The sections carry punishment up to three years and fine. More sections are likely to be added in the FIR.