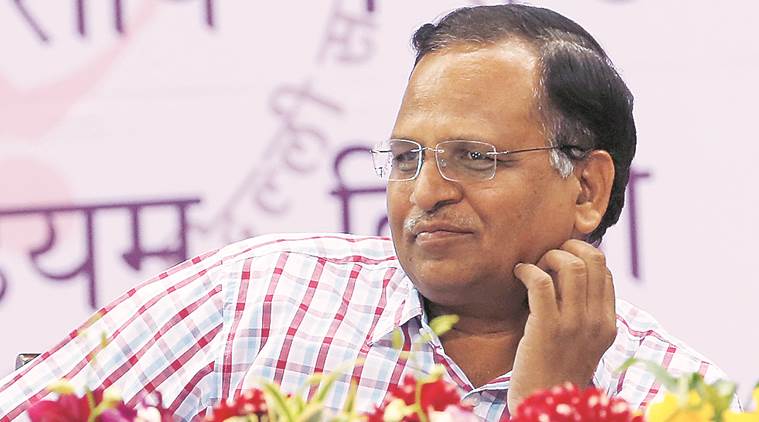 Satyendar Jain
The Delhi Home Department has turned down Delhi Home Minister Satyendar Jain's order to lodge a police complaint against Delhi BJP chief Manoj Tiwari for allegedly attempting to "attack" and cause "harm" to Chief Minister Arvind Kejriwal and his colleagues during the Signature Bridge inauguration on Sunday.
On Tuesday, Jain wrote to Additional Chief Secretary Manoj Parida, who is also the Principal Secretary (Home), to lodge a complaint against Tiwari, for allegedly being party to a criminal conspiracy to commit an offence and rioting, among other charges.
"Tiwari and his associates formed unlawful assembly, forcibly entered enclosures/dais with the intention to attack and harm the CM and council of ministers and create ruckus. They obstructed and assaulted public servants and threatened them with dire consequences," read Jain's note, titled "lawlessness and mayhem at Signature Bridge inauguration".
However, Parida said the Home Department has no role in the matter.
Parida told The Indian Express, "The Tourism Department organised the event. The Home Department has no role in this case. Any victim or witness can lodge a complaint, or the DTTDC can. Even the AAP can."
Tiwari, who had tried to get on the stage during the inauguration, was involved in a scuffle with police. Later, he had accused AAP MLA Amanatullah Khan of pushing him while standing next to the stage. Both leaders have denied the allegations.
In his note, Jain wrote that Tiwari and his associates should be booked for offences under IPC sections 120B (party to a criminal conspiracy to commit an offence), 147 (rioting), 148 (rioting with deadly weapon), 186 (obstructing public servant), and 189 (threat of injury to public servant), among others.
Meanwhile, AAP Rajya Sabha MP Sanjay Singh, in a letter to police commissioner Amulya Patnaik, said the party's MPs will raise the issue in both Houses of Parliament during the upcoming winter session. Singh said the onus was on Patnaik to prove his critics wrong by taking action against Tiwari.
While Jain attached a CD containing video clips of the incident with his note, Singh wrote in his letter that there is video and pictoral evidence of Tiwari holding a DCP by his collar.
For all the latest Delhi News, download Indian Express App