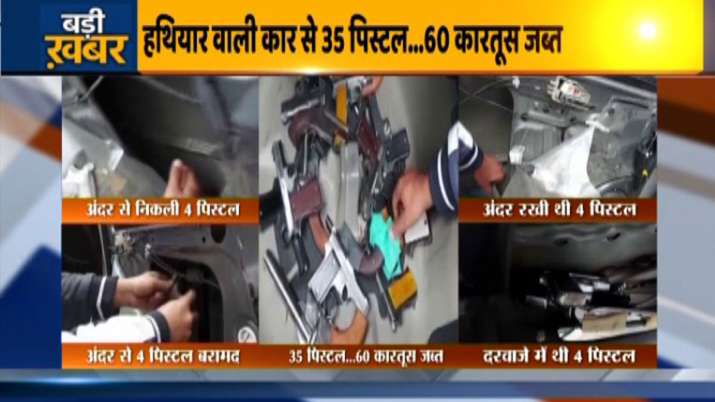 The Special Cell of Delhi Police on Friday arrested a man involved in supply of illegal arms in the national capital. The arrested person has been identified as Ashish. He is a resident of Uttar Pradesh, police said, adding that the arms were being brought to Delhi from Madhya Pradesh.
Police had received a tip-off from sources about Ashish coming to Delhi with arms. Police said that 35 semi-automatic pistols and 60 rounds of live ammunition were seized from his possession. The arms and ammunition were concealed inside specially made cavities in the Swift Dzire car that Ashish was driving. The pistols were hidden inside all the four doors of the vehicle, while live bullets were found in boot space. 
The arrest was made in the wee hours as police followed a tip-off that Ashish will be delivering illegal weapons in the national capital. Police said that a trap was laid and Ashish was arrested.
One arms supplier namely ashish r/o up has been arrested by delhi police special cell with 35 semi automatic pistol and 60 live ammunition. @sanjeevyadav225 @CellDelhi @indiatvnews @IndiaTVHindi pic.twitter.com/FUAgjyf4fR


— Abhay parashar (@abhayparashar) January 8, 2021
"Ashish Kumar Pandey hails from a poor class family. He has completed his graduation from Kanpur. He is unmarried. Due to poor financial condition of his family, he came in contacts of illegal arms supplier and started supply of illegal firearms and ammunition," the police said in a statement. The accused disclosed that he has been indulging in this illegal trade of supplying of firearms for more than two years.
Upon interrogation he disclosed that it costs hardly Rs 7,500 in manufacturing a pistol and he supplies these pistols in bulk at Rs. 15,000 per pistol. Pistols supplied by him eventually go into the hands of dreaded criminals of Delhi and adjoining states at Rs 25,00 to 35,000 per piece.