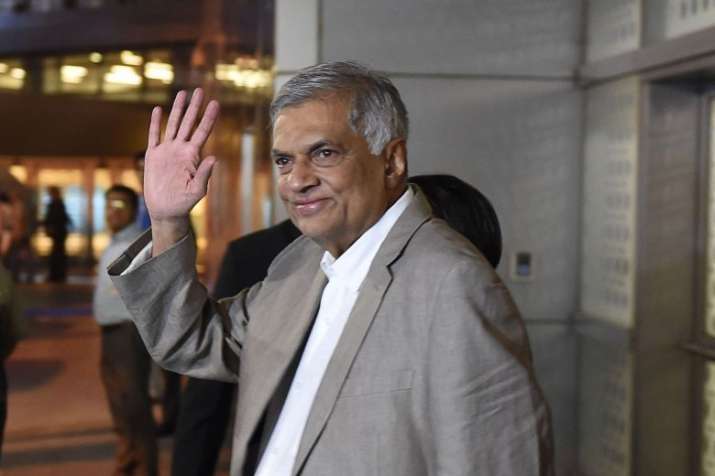 Ranil Wickremesinghe was on Sunday recognised as the prime minister of Sri Lanka by the speaker of the Parliament. Wickremesinghe said he has "obtained a mandate to secure democracy and good governance", in a major relief to the embattled UNP leader who was sacked by President Maithripala Sirisena in a dramatic move on Friday night.
According to his party Sri Lanka Podujana Peramuna (SLPP), the former President secured a majority in the island's 225-member Parliament and will continue to retain his job despite protests from the UNP.
Sri Lankan President Maithripala Sirisena had appointed his predecessor Mahinda Rajapaksa as Prime Minister after ousting Ranil Wickremesinghe from the post.
Political developments in Sri Lanka are being closely monitored by India, the External Affairs Ministry said on Sunday.
"India is closely following the recent political developments in Sri Lanka," Ministry spokesman Raveeh Kumar said in response to queries from the media.
"As a democracy and a close friendly neighbour, we hope that democratic values and the constitutional process will be respected," Kumar said.
"We will continue to extend our developmental assistance to the friendly people of Sri Lanka," he added.
The president's decision to suspend parliament till November 16 was questioned by Speaker Karu Jayasuriya in a letter to Sirisena.
The move will have "serious and undesirable" consequences on the country, the speaker had said.
He asked the president to restore Wickremesinghe's privileges as the leader of the government who has "obtained a mandate to secure democracy and good governance".
Sirisena on Friday night sacked Wickremesinghe and appointed former strongman Mahinda Rajapaksa as the new prime minister. Next day, Sirisena suspended parliament till November 16 after Wickremesinghe sought an emergency session to prove his majority.
The president also withdrew Wickremesinghe's personal security and vehicles in order to accord them to his 72-year-old successor, who staged a dramatic political comeback on Friday.
Jayasuriya said a prorogation of parliament should be one in consultation with the speaker.
The speaker also questioned Sirisena's decision to withdraw the security of Wickremesinghe.
Jayasuriya reminded Sirisena of certain forcible takeovers of state institutions since Rajapaksa was named Wickremesinghe's successor by the president.
Analysts said Rajapaksa now has 99 seats, 14 short of the 113 required. Wickremesinghe's UNP now stands at 105, just eight short of the majority.
Two parties, the Marxist JVP with their six seats and the main Tamil party, Tamil National Alliance (TNA) with their 16 are to stay neutral.
The TNA sources said Rajapaksa had spoken to the TNA leader R Sampanthan over telephone and asked for their support.
Wickremesinghe, who termed his shock dismissal as illegal and unconstitutional, remained at the prime minister's official residence-cum-office of Temple Trees.
Sri Lanka nearly faced economic sanctions from the West over Rajapaksa' brutal military crackdown on the banned LTTE.
The LTTE sought a separate Tamil homeland in the northern and eastern provinces of the island nation for nearly 30 years before its collapse in 2009 after the Sri Lankan Army killed its supreme leader Velupillai Prabhakaran.
Rajapaksa and his family were facing several cases of corruption and financial irregularities.