By:
PTI
| New Delhi |

Updated: October 7, 2018 5:34:25 pm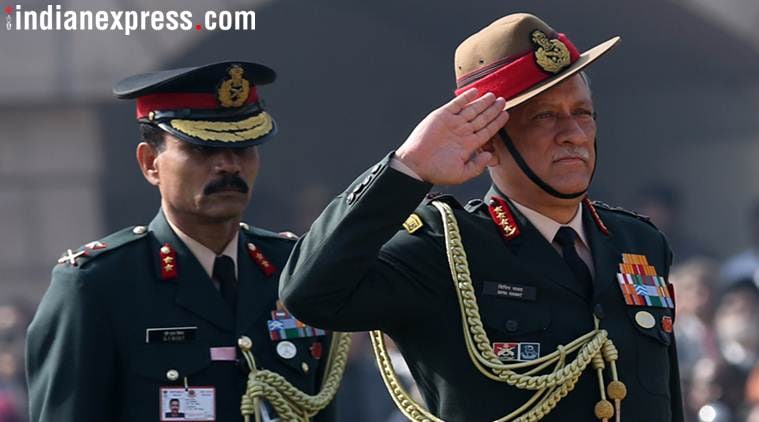 Gen. Rawat, who returned Saturday night after a six-day visit to Russia, held talks with military officials of that country. (Express Photo by Amit Mehra)
Amid fears of US sanctions over the recent S-400 missile deal with Russia, Indian Army chief General Bipin Rawat Sunday asserted that the country is keen on getting the Kamov helicopters and other weapon systems from Moscow and added that India follows an independent policy.
The chief's remarks came after his return from a six-day visit to Russia, where he held talks with military officials and counterpart to enhance cooperation between the two countries. He said the Russians were very keen in associating with the Indian Army and defence forces. "Because they do understand that we are a strong Army, capable of standing up to what is right for us based on our strategic thought process," PTI quoted General Rawat as saying.
General Bipin Rawat during his visit to Russia discussed issues of strategic and mutual concern. (Source: Twitter/@ADGPI)
India and Russia on Friday formally sealed the $5 billion S-400 air defence system deal and signed eight pacts at the annual bilateral summit in New Delhi even as the US gave a guarded response over the development. In a guarded statement, the US embassy in New Delhi said that its intent to slap sanctions against Russia was not aimed at imposing damage to the military capabilities of its "allies or partners"
Also Read | India, Russia ink S-400 defence deal, sign eight pacts at annual bilateral summit; US gives guarded response
The Army Chief was speaking at the Gen. K V Krishna Rao Memorial lecture. On his Russian visit, Gen. Rawat recalled a question posed to him by a Russian naval officer that India seemed to be looking westwards at America, which has put sanctions on Russia, and that Washington has also threatened to impose restrictions on New Delhi for dealing with Moscow.
"You (Russia) can be rest assured (that) while we may be associating with America in getting some technology, but we follow an independent policy. I told them, while we are talking sanctions and you are questioning on sanctions, President Vladimir Putin and Mr. Narendra Modi, at this juncture, are signing the treaty on purchase of S-400 weapon system inspite of the fact that we may face challenges from America in the future," the Army Chief said.
Both the sides signed eight pacts in areas ranging from defence, railways nuclear energy, space and economy. A crucial MoU was signed between Indian Space Research Organization (ISRO) and the Federal Space Agency of Russia 'ROSCOSMOS' on joint activities in the field of human spaceflight programme Gaganyaan.
For all the latest India News, download Indian Express App