India is now home to the world's tallest statue.
Indian Prime Minister Narendra Modi formally presented the massive 600-foot Statue of Unity, which depicts the so-called Iron Man of India, Sardar Vallabhbhai Patel, on Wednesday.
The incredible statue is twice the size of the Statue of Liberty ― or nearly four times larger if you don't include Liberty's pedestal ― and overlooks the Narmada River in the western state of Gujarat, where the independence leader was born.
Before becoming India's first deputy prime minister, Patel was inspired by the philosophy of Mahatma Gandhi, leading him to organize a nonviolent civil disobedience movement against British colonialism.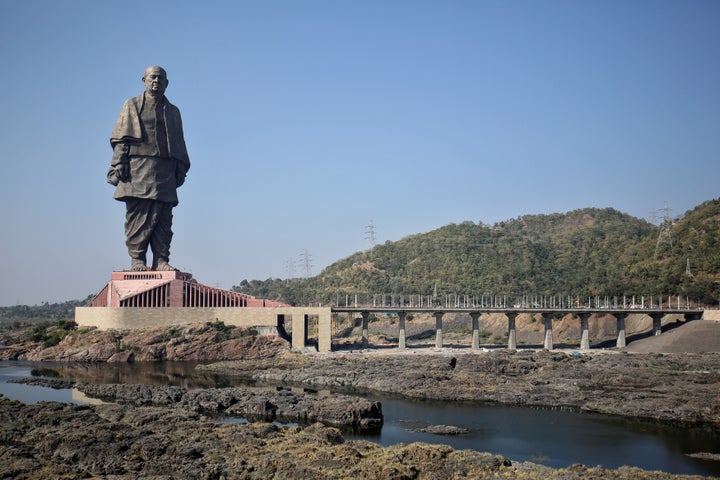 "Patel took charge of the task to forge a united India from the 565 semi-autonomous princely states and British-era colonial provinces. Using frank diplomacy backed with the option (and the use) of military action, Patel's leadership enabled the accession of almost every princely state," a website dedicated to the statue and Patel's life reads.
The statue is the first crowd-funded monument in modern India, according to the website. The New York Times reports that it cost $400 million.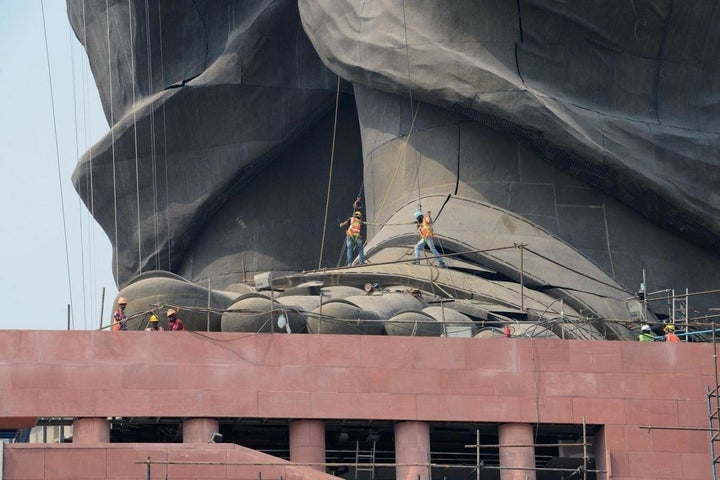 The statue is made of iron from former farming supplies and soil from villages across the country to ensure "that Indians from all walks of life get a chance to actively participate in the construction of this icon of national unity, in most of the ways possible," according to the Statue of Unity website.
Despite that goal, local tribal leaders objected to the statue and said they would boycott its dedication, citing the construction project's cost and its use of natural resources.
"If Sardar Patel could see the mass destruction of natural resources and injustice done to us, he would cry," a letter to the prime minister from 22 local leaders read, according to India's NDTV. "When we are raising our issues, we are persecuted by police. Why you are not ready to listen to our plight?"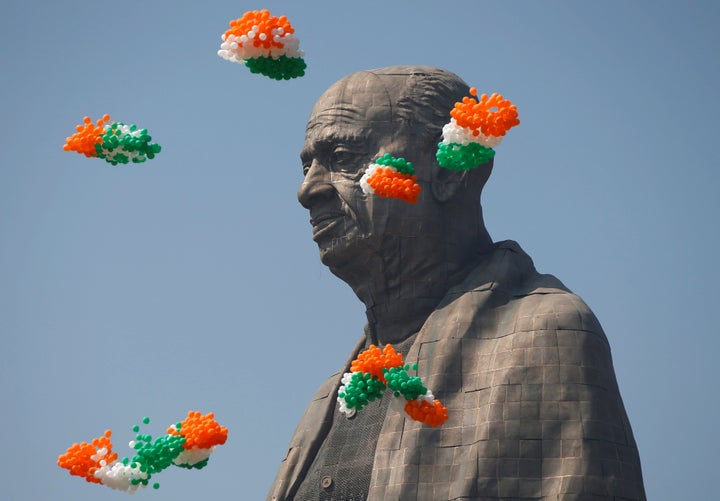 The outrage apparently did little to dampen the spirits of India's prime minister, however.
"Every Indian will be proud of the fact that the world's tallest statue is now in India. Sardar Patel, the man connected with the land, will now adorn the sky," Modi said Sunday. "I am sure every Indian will take pride in telling the world about this great accomplishment."
The Statue of Unity is not likely to hold the title of the world's tallest for long, however.
India is constructing another statue off the coast of Mumbai in the Indian state Maharashtra that will soar 695 feet into the sky. That statue will commemorate the warrior king Chhatrapati Shivaji Maharaj, who founded the Maratha Empire in the 17th century.