Umesh Yadav, who is way down the pecking down as far as the Indian bowling order is concerned, wrecked havoc against the West Indies. Pace, accuracy, and relentless, he was on the money and returned with 10 wickets in Hyderabad. And now, with Shardul Thakur out injured for the ODI series, Umesh is back in coloured clothing, a chance for him to get his name in that World Cup squad.
Mohammed Shami was the pick of the bowlers for Kohli in South Africa and England, he impressed everyone with his skills and match-winning abilities. Against the West Indies, he will be paired with Umesh and if numbers are to be believed, they have been the top bowling pair against them in the world.
Since 2010, Shami and Umesh are the only pacers with 20 or more wickets against West Indies in ODIs. Only tweakers in Ravindra Jadeja, Imran Tahir and Ravichandran Ashwin are the other bowlers to do so. While Umesh has picked up 25 wickets in 14 matches, Shami has scalped 21 wickets in 9 matches.
Menacing average and strike rate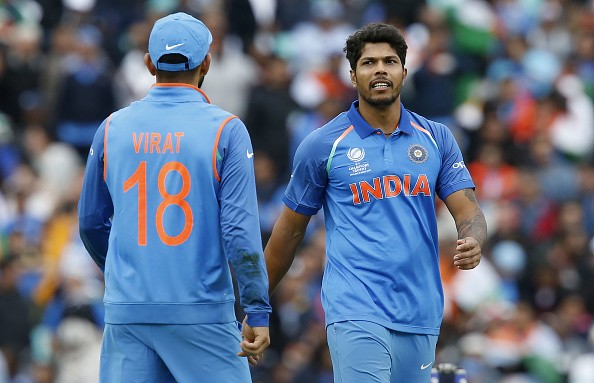 Umesh averages 20.09 with a strike rate of 22.4, while Shami averages 20.09 with a strike rate of 22.4.
"Four Tests in Australia can be brutal because the (Kookaburra) ball does not do much like in England. So you have to come in and run in all day and hit the right area with pace. But I think from that point of view, Umesh is right up there to be featured in Australia," Kohli said about Umesh after his stellar performance in Hyderabad.
"He has come a long way. It's a great sign. Bowling is something that we need to keep as a major strength for us in order to feel that we have a chance to win series when we travel away from home as well. I think these guys (Umesh, Bumrah, Bhuvneshwar, Shami and Ishant) are taking responsibility well," Kohli further added.
India's squad for 1st two ODIs:
Virat Kohli (captain), Rohit Sharma (vice-captain), Shikhar Dhawan, Ambati Rayudu, Manish Pandey, Mahendra Singh Dhoni (wicketkeeper), Rishabh Pant, Ravindra Jadeja, Yuzvendra Chahal, Kuldeep Yadav, Khaleel Ahmed, Mohammed Shami, Umesh Yadav and Lokesh Rahul