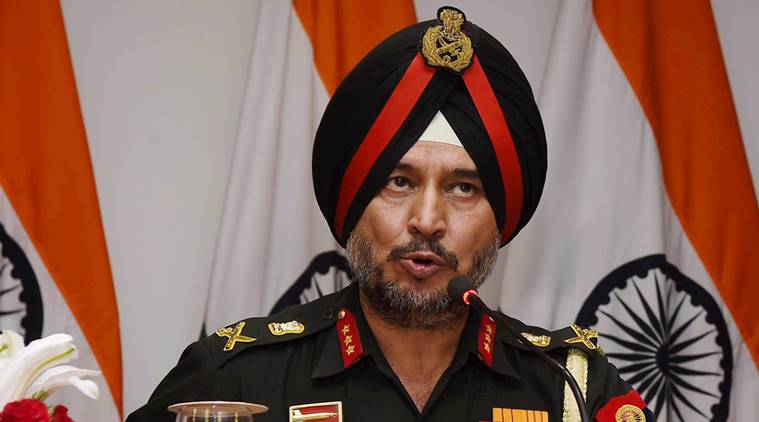 Northern Army Commander Lt. General Ranbir Singh. (Source: PTI/File)
A week after the killing of a senior BJP leader and his brother by terrorists, Northern Army Commander Lt. General Ranbir Singh Thursday visited army posts in Kishtwar and Suigargh sectors to review the operational preparedness and the prevailing security situation.
During his visit, the Army Commander was briefed by the commanders on ground about the current operational and prevailing hinterland security situation and the preparedness of the formations in dealing with the same. The Army Commander was also updated by the White Knight Corps Commander on current internal security situation in Kishtwar region and measures undertaken by the Army and civil administration for controlling the situation, defence ministry spokesperson Lt Col Devender Anand said.
The Northern Army Commander also interacted with officials of the civil administration at Kishtwar who briefed on the internal security situation in the region in the light of the killing of BJP leader Anil Parihar and his brother Ajit Parihar. He expressed his condolences to the bereaved families and lauded the role played by the leaders of the region, elders, local populace and joint efforts of all security forces that helped in maintaining peace in Kishtwar and adjoining areas.
The Army Commander was also briefed on the actions being taken to ensure a robust counter-terrorist grid to enable continued peace and stability in the region. He interacted with the soldiers and complimented them for their dedication towards duty and high standard of professionalism.
The Army Commander also reinforced the need to be prepared for effectively meeting emerging security challenges during his interaction. He exhorted all ranks on the need to remain vigilant to counter the nefarious designs of the inimical and anti-national elements.
For all the latest India News, download Indian Express App