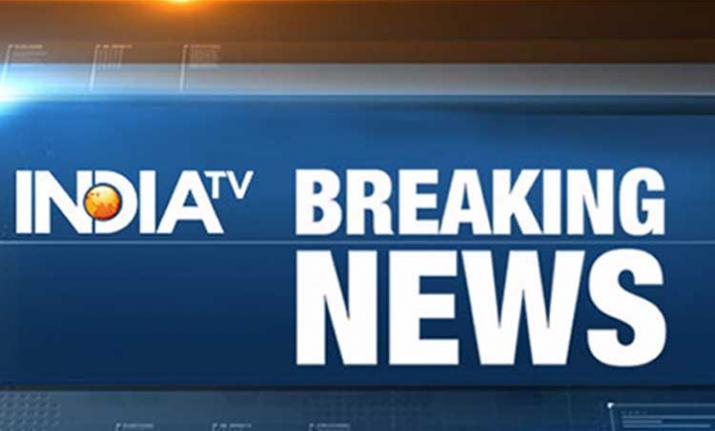 Daily dose of news plays very important role in our daily life. For some people, the morning is incomplete without knowing about what's happening across the world. Some digital-savvy people have a habit of consuming news even when they are travelling or in their free time. In today's world, where people rely on news websites for everything that's happening around, IndiaTV News provides you all breaking news, latest news, breaking story videos, Live TV and top shows of IndiaTV, country's leading news channel on a single platform to ensure you don't miss anything important.
Internet, Twitter, Facebook are buzzing with breaking news and news alerts from India and rest of the world. You can find here the LIVE COVERAGE of all breaking news alerts and latest news updates on just one page. IndiaTV Digital covers all top news as and when it happens and ensures its readers don't miss anything important.
WATCH ALL THE NEWS HAPPENING AROUND THE GLOBE HERE:
LIVE BREAKING NEWS OF OCTOBER 12
4:19 PM: Indian Navy joins relief operations in severe Titli Cyclone affected areas
4:10 PM: Tanushree Dutta will send another letter to Cine And TV Artistes' Association (CINTAA)
3:46 PM: We must be cautious against fringe cases that try to use the RTI mechanism to settle personal scores, says President Ram Nath Kovind
3:26 PM: Lucknow: Bullets, cartridges&a gun was found in box kept in a room in a Primary School in Narahi
2:54 PM: Madras High Court orders CBI probe on DMK's plea to register an FIR on alleged corruption in awarding of contracts by State highways department
2:30 PM: Women coming to Sabarimala temple should be ripped in half, says actor Kollam Thulasi
2:02 PM: Sunanda Pushkar case: Counsel for Shashi Tharoor informs Court that of the list of the documents, some files in the hard-disk are inaccessible
1:30 PM: Andhra Pradesh: A Naxal was killed in an encounter with Police at Visakhapatnam's Munchingput
1:15 PM: Sajid Khan steps down as director of 'Housefull 4'
12:55 PM: Prime Minister Narendra Modi to visit to Japan on 28-29 October 2018 for the 13th India-Japan Annual Summit
12:40 PM: Supreme Court today refused to stay the West Bengal government's order which had said to give Rs 10,000 each to various Durga Puja committees for celebrations. SC issued notice to the state government and sought a detailed affidavit from it within six weeks.
12:20 PM: News of funeral prayers being held for terrorist Manan Wani in AMU is completely false. It did not happen, neither it will ever happen nor we will let it happen.There was an unlawful assembly of few students but that also was stopped by other students: Omar Peerzada, AMU PRO
11:30 AM: Delhi: Meeting on oil sector, chaired by PM Narendra Modi underway, Petroleum Minister Dharmendra Pradhan also present
10:50 AM: Sardar Vallabhai's Patel's statue at Narmada bank to be inaugurated by PM Modi on Oct 31
10:40 AM: SC dismisses pleas of Congress leaders Kamal Nath and Sachin Pilot, seeking directions to ECI for providing draft voters' list in text format.
10:00 AM: Union Home Ministry has advised Chandigarh administration to give an exemption to Sikh women from wearing protective headgear (helmet) while driving two-wheelers in Chandigarh. This was in response to representation received by Home Minister from representatives of Sikh bodies.
09:45 AM: Income tax department raids close relatives of TDP leader and businessman CM Ramesh. CM Ramesh is the promoter of Rithwik Projects Pvt. Ltd. Raid is also going on at his partners in Rithwik Projects Pvt. More details awaited: IT Sources
09:30 AM: Sensex at 34,468.29, up by over 465 points.
08:40 AM: Uttar Pradesh Government has approved the setting up of a political training institute in Ghaziabad. The institute will give political training to public representatives and political workers.
06:40 AM: Petrol and diesel prices in Delhi are Rs 82.48 per litre (increase by Rs 0.12) and Rs 74.90 (increase by Rs 0.28) respectively. Petrol and diesel prices in Mumbai are Rs 87.94 per litre (increase by Rs 0.12) and Rs 78.51 per litre (increase by Rs 0.29) respectively.
06:20 AM: Signing an offset contract is a requirement of Indian law (Defence Procurement Procedure). The implementation of offsets is an obligation and, under the Indian regulation, the choice of the partners belongs to us: Dassault Aviation CEO Eric Trappier to AFP on #RafaleDeal
06:10 AM: Controversies are always unfortunate but we remain calm. The cooperation between Dassault and India, which has existed for 65 years, has been given fresh impetus by Make in India and we are proud to be able to contribute to it: Dassault CEO in an interview to AFP on Rafale Deal
06:05 AM: Dassault Aviation therefore exercises technical&industrial control over operations, applying standardS & flexibility.This JV will produce parts for Falcon 2000&Rafale.Choice of Nagpur site was dictated by availability of land with direct access to airport runway:Dassault CEO to AFP
06:00 AM: Dassault Aviation decided to establish a long-term presence in India through DRAL, a joint enterprise in which governance is provided by Indian Chief Executive Officer & French Chief Operating Officer: Dassault Aviation CEO Eric Trappier to AFP on 'why Reliance was chosen over HAL'
05:40 AM: Andhra Pradesh: 4-year-old girl allegedly assaulted by her father, a government teacher, in Krishna district on October 6. Girl's mother registered a police complaint on October 8. Case registered, police investigation underway.