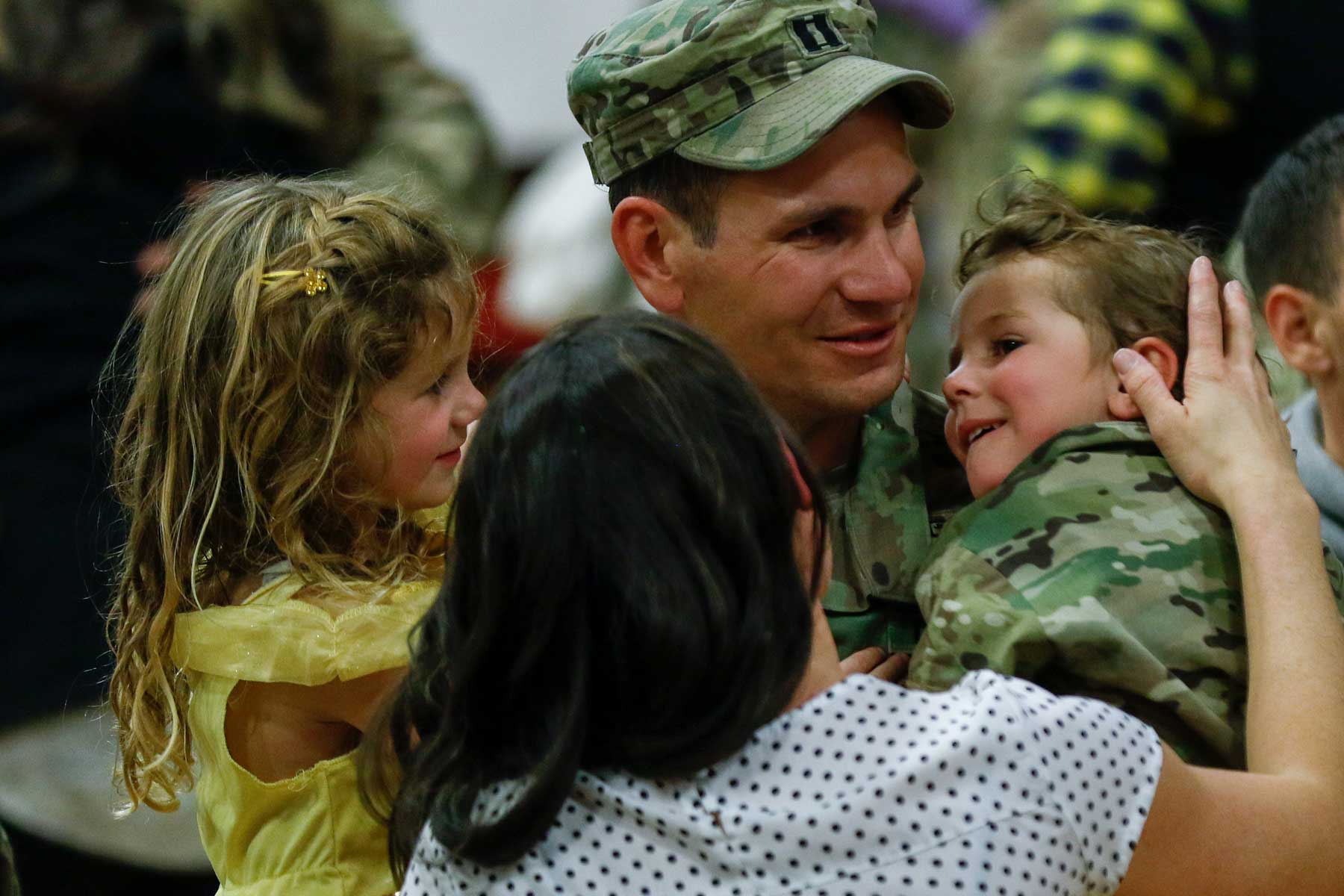 Soldiers and their families could see improvements in child care services and spouse employment, as well as changes to assignments under the Exceptional Family Member Program this year.
Senior Army leaders said Monday that the service has instituted or plans to introduce several initiatives in 2019 to improve the quality of life of troops and their spouses.
The efforts range from improving access to child care and easing spouses' financial burden of obtaining professional credentials during a move to lengthening the amount of time soldiers remain at the same duty station.
Army Secretary Mark Esper said the changes are needed to improve the welfare of troops and families and ensure readiness.
"If we want [soldiers] to stay and serve, we need to take care of [families] in that manner because we enlist soldiers, but we retain families," he said during an Army Family Initiatives Forum hosted by the Association of the United States Army in Arlington, Virginia.
Noting that child care is the most common concern he hears expressed by families as he travels across the service, Esper said new measures will allow soldiers to access on-base and community child care more readily and accelerate the process for spouses to get jobs at child development centers and elsewhere on base.
He recently signed two directives that bolster priority access for soldiers and eligible Reserve members at base child-care centers, as well as bar civilian Army employees from enrolling in a program designed to offset the cost of community child care when no spaces are available on base, freeing up funds for soldiers' children.
Related: Pentagon Weighs Privatizing Military PCS Moves.
The Army also has developed a program allowing spouses employed at child development centers to change jobs more easily from base to base and is working on measures to speed spouse hiring throughout the service.
According to Esper, the Army takes an average 134 days to hire a new civilian employee. The secretary wants to reduce that to under 60 days. The service also wants to improve spouse employment prospects by introducing preferential hiring programs and conditional hiring for some civilian installation positions, as well as paying fees for spouses who need state credentials or licenses to work in their fields.
"We are developing a new policy to reimburse the expenses for transferring licenses for most spouses and, at the same time, I'm going to continue to work on Capitol Hill to get lawmakers to come up with a broader national policy" on credentialing, he said.
The Army also plans to address a historic barrier to spouse employment — frequent moves. Esper said he will begin standardizing assignments, both in the continental United States and overseas, to 36 months.
And he wants troops to understand that they can remain in one place for an extended period without hurting their careers if there are jobs available at that location.
"We can stabilize the force. Particularly if the spouse has a great job, if the kids are in good schools and the parents are happy, we want to reduce [permanent change of station] turmoil," Esper said.
Other changes include reducing the stress of transfers on troops enrolled in the Exceptional Family Member Program, by giving soldiers more input into the assignment process. According to Esper, those families will be provided a list of screened location choices to choose from, and new screening processes should ease their moves.
"I've heard a lot about this, particularly [overseas]. By summer of 2019, we hope that soldiers and families will benefit from using a DoD standardized family member travel screening form. Additionally, they will be allowed to be screened at any military treatment facility," he said.
Additional initiatives include:
A new directive that will allow family readiness groups to fundraise on post and reduce the amount of paperwork needed to participate in certain activities and events.
Improvements to the approval process for those living in base housing to run home-based businesses.
Elimination of the some of the Army's worst housing by 2026.
Sergeant Major of the Army Dan Dailey said the service must make improvements to ensure troop retention.
According to Dailey, 53 percent of soldiers are married, and 43 percent have children. "It's a family business. … We want your help so we can make sure that families not only survive, they'll actually thrive," he said.
— Patricia Kime can be reached at Patricia.Kime@military.com. Follow her on Twitter @patriciakime.
© Copyright 2019 Military.com. All rights reserved. This material may not be published, broadcast, rewritten or redistributed.