Written by
Kavita Upadhyay
| Dehradun |

Updated: November 7, 2018 4:21:21 pm
PM Modi with Army and ITBP jawans in Harsil. (Twitter/narendramodi)
Prime Minister Narendra Modi Wednesday visited the Kedarnath shrine, to offer prayers and inspect the re-development works in the shrine premises. The prime minister also visited Harsil where he met the Army and Indo-Tibetan Border Police (ITBP) jawans to celebrate Diwali.
PM Modi reached Kedarnath in Uttarakhand's Rudraprayag district on Wednesday morning, where he reviewed the ongoing reconstruction projects at Kedarpuri area, which comprises Kedarnath.
The Kedarnath Valley had witnessed much devastation in the year 2013 after a glacier lake breach had flooded Kedarpuri and the Kedarnath Valley. The deluge had caused much damage to infrastructure including buildings and roads and had resulted in the death of at least 4,000 people.
PM Modi at Kedarnath (Twitter/narendramodi)
The reconstruction of Kedarnath has been one of Modi's pet projects. On October 20, last year, the PM laid the foundation stone of five projects at Kedarpuri, which included widening of the approach road to Kedarnath, construction of ghats and retaining walls on rivers Mandakini and Saraswati, construction of houses for the teerth purohits (priests), and the construction of a grand 'samadhi sthal' of Adi Sankara.
During an hour and a half that the PM spent at Kedarpuri, he offered prayers at the shrine and took a walk in the premises to review the progress in the reconstruction projects, two of which – widening of the approach road, and construction of retaining walls along the Mandakini – are complete. The remaining reconstruction projects are scheduled for completion by April, next year.
During the visit, the prime minister was shown a documentary and a photo exhibition that recorded the journey of reconstruction of Kedarpuri. He was briefed about the reconstruction works by Uttarakhand's Chief Secretary Utpal Kumar Singh.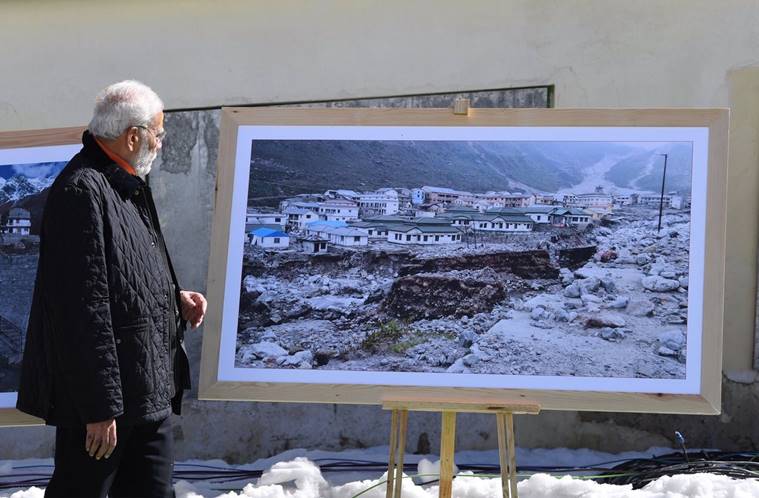 PM Modi at the photo exhibition that recorded the journey of reconstruction of Kedarpuri. (Twitter/narendramodi)
Chief Minister Trivendra Rawat and Governor Baby Rani Maurya accompanied Modi as he walked through the shrine premises.
Before visiting Kedarnath, on Wednesday morning Modi reached Harsil in Uttarakhand's Uttarkashi district where he met the jawans of the Army and the ITBP. While interacting with the jawans the PM recalled that he had been visiting soldiers on Diwali from the time since he was elected as the CM of Gujarat.
PM Modi also spoke about the steps being taken by the government to strengthen the defence sector, and the welfare measures being taken for the ex-servicemen including One Rank, One Pension (OROP).
After the interaction, the prime minister tweeted: "Celebrated Diwali with our valorous Army and ITBP personnel at Harsil in Uttarakhand. India is immensely proud of all those who protect our nation with utmost dedication and courage. We salute them!"
Army chief General Bipin Rawat was also present at Harsil during Modi's visit.
For all the latest India News, download Indian Express App