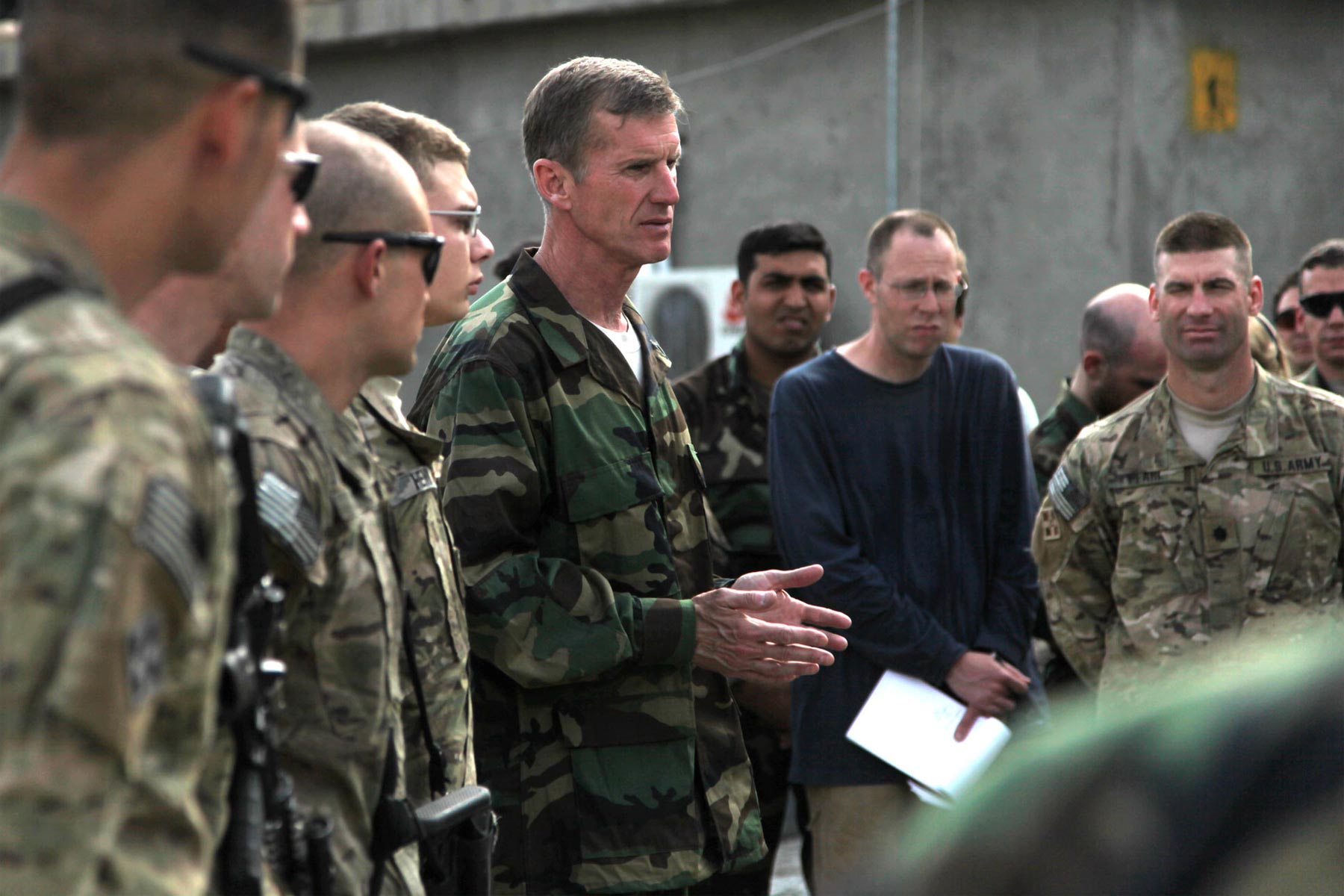 Retired Army Gen. Stanley McChrystal called on Americans to stop fixating on President Donald Trump and search for answers within themselves to the nation's problems.
At an Association of the U.S. Army event Wednesday night, McChrystal passed on his recent scathing criticism of Trump — "Yeah, I know. I think I'm on the record" — and instead focused on the need for Americans to make their own unbiased judgments on the nation's direction.
In a question-and-answer session following his lecture on leadership values, he said of Trump, "I think almost independent of his personality, what we need to do is look in the mirror right now."
"Stop looking at President Trump, or [House Speaker] Nancy Pelosi, or [Senate Minority Leader] Chuck Schumer, or somebody else," McChrystal said. "Look in the mirror. Decide what we believe is the necessary leadership for our country."
Trump rose to leadership through a unique set of factors, he said.
"I think if we look at President Trump, he emerged," McChrystal said. "He didn't create the dissatisfaction that caused him to be successful in the election. There were already things brewing, so he emerged from that situation."
Earlier at the event, McChrystal, former commander of Joint Special Operations Command (JSOC) and U.S. forces in Afghanistan, gave a presentation on his third and more recent book, "Leaders: Myth and Reality," as part of AUSA's Lyman Lemnitzer lecture series.
The book, written with Jeff Eggers and Jason Mangone, focuses on 13 leaders and the traits and circumstances that made them successful. McChrystal said some of his choices might surprise the audience, including designer Coco Chanel, Nobelist Albert Einstein and even McChrystal's arch-nemesis, Jordanian al-Qaida in Iraq leader Abu Musab al-Zarqawi.
"They emerged as leaders, sometimes because they fought to do it," McChrystal said, "and at other times because they were there at the right place and the right time."
As JSOC commander, he directed the operation that killed Zarqawi in June 2006. McChrystal described standing over his body.
"Even at that point, I had a pretty healthy respect for the guy, for his commitment to a cause," however evil, he said.
McChrystal made headlines Dec. 30 with his criticism of Trump on ABC-TV's "This Week Program."
"I don't think he tells the truth," he said of Trump on the show. When asked whether the president is "immoral in your view," McChrystal replied: "I think he is."
"If we want to be governed by someone we wouldn't do a business deal with because their — their background is so shady, if we're willing to do that, then that's in conflict with who I think we are. And so I think it's necessary at those times to take a stand," McChrystal said on the show.
Trump hit back two days later in a tweet calling McChrystal a supporter of former Secretary of State Hillary Clinton who "got fired like a dog by [former President Barack] Obama. Last assignment a total bust. Known for big, dumb mouth. Hillary lover!"
McChrystal resigned after 34 years of service in 2010 when he faced possible firing by Obama over a Rolling Stone article detailing disparaging comments made in his presence by aides about then-Vice President Joe Biden and other administration officials.
— Richard Sisk can be reached at Richard.Sisk@Military.com.
© Copyright 2019 Military.com. All rights reserved. This material may not be published, broadcast, rewritten or redistributed.