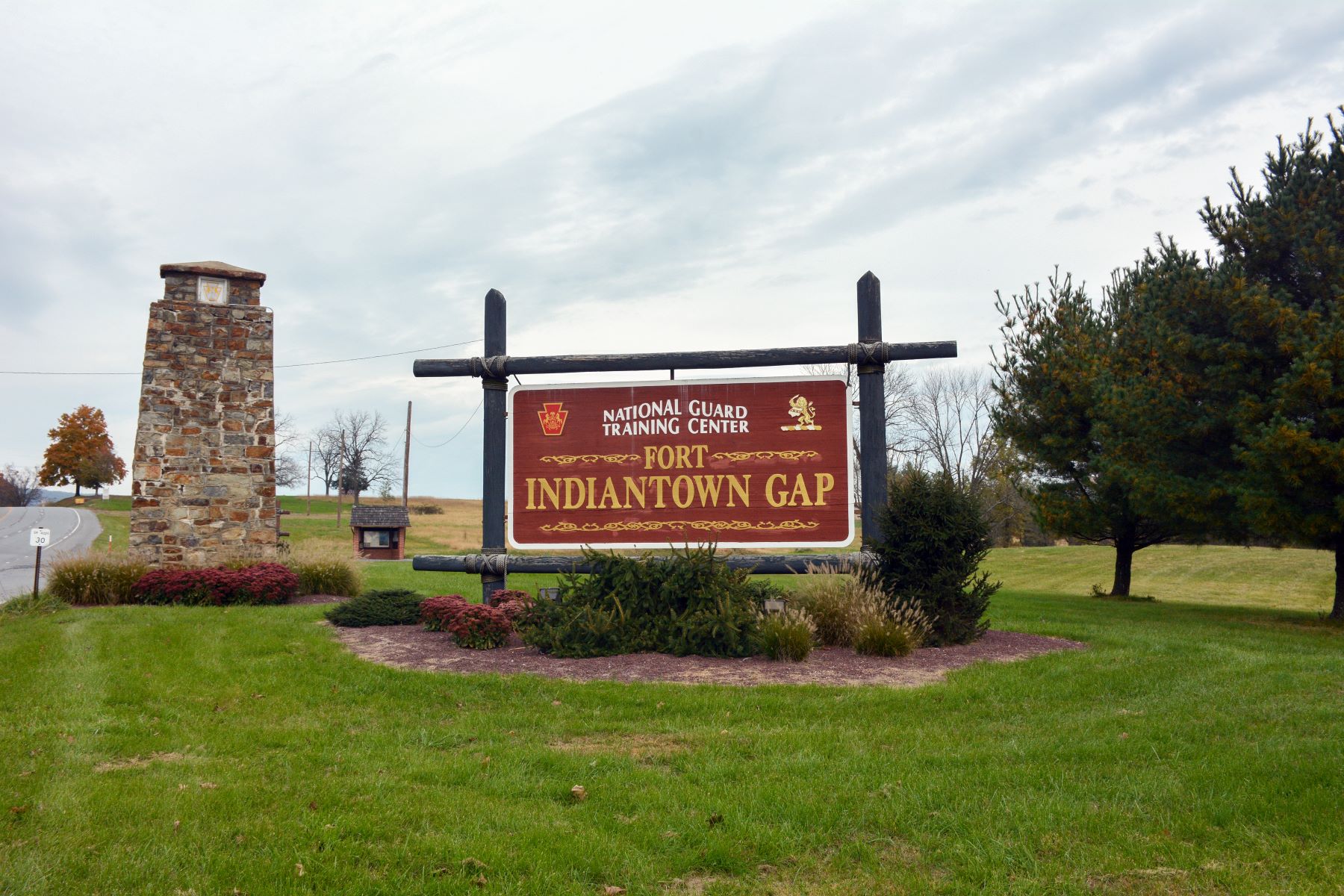 ANNVILLE, Pennsylvania — Chinook and Black Hawk helicopters frequently fly over the Pennsylvania adjutant general's residence, a white home with green trim, located next to the shores of Memorial Lake.
Several passed overhead, both leaving from and returning to nearby Fort Indiantown Gap, when, earlier this month, Maj. Gen. Anthony J. Carrelli welcomed the participants in the Employer Support of the Guard and Reserve's Boss Lift program for a picnic on an idyllic spring day. And, every time one flew nearby, guests took a break from their BBQ dinners, or conversations or time spent watching kayakers paddle on the glass-like water to follow the helicopters through the azure sky.
Carrelli even joked that he liked the property, but wished there was somebody he could ask about the noise.
But Carrelli, who has overseen the fort since being named adjutant general in 2016, also recalled a time when another helicopter flew over his home — a much more serious occasion that he used as an example to show the dedication and skill of the military personnel who train and work at the installation, doing far more than only preparing for combat situations.
Last July, two young women, ages 19 and 22, were walking across a flooded creek in Dauphin County when they were swept in. Only one was able to reach the shore safely on her own. A call came into the Pennsylvania National Guard for help. Carrelli, a pilot himself, said questions rushed to his mind about the weather conditions, terrain, pilots, crew and instruments.
Finally, though, he only asked one — what did the crew think?
They wanted to attempt a rescue.
A few minutes after giving the order to go, Carrelli, while watching a news broadcast about the storm and flooding from inside his home, heard a helicopter fly overhead.
"There we had seven or eight people in a helicopter," Carrelli said. "There were seven or eight families that we risked that night. … We have people that are willing to do that in the worst of conditions. But, on that night, in that part of Pennsylvania, we were the only people on the planet that had the capacity to hover over that creek and look for that girl. I can't be prouder."
'A Major Base'
In his role as adjutant general, a Cabinet-level position with the Pennsylvania Department of Military and Veterans Affairs, Carrelli is responsible for the Army and Air National Guard units allocated to the commonwealth, along with six state-owned veterans' homes and programs for Pennsylvania's approximately 800,000 veterans.
He is based at Fort Indiantown Gap, which is run by the Pennsylvania National Guard and Pennsylvania Department of Military and Veterans Affairs.
It is widely considered one of the best of 48 National Guard training centers located throughout the continental United States and Puerto Rico, having been the busiest installation for three consecutive years. More than 150,000 service members, law enforcement officers and other federal, state, local and international personnel accumulated 860,000 "man days" at the site during fiscal year 2018.
The training includes live fire shooting, riot control, polygraph testing and helicopter flying.
"The Gap is a jewel for us," Carrelli said.
Many participants in Boss Lift, which was designed to give employers a better understanding of what their workers go through in the Guard and Reserve, spoke positively about the Gap.
"I had no idea this place was as major as it is," Paul Hope, an Irwin resident who owns a State Farm insurance office in Richland, said. "It's a major base. It's contributing quite a bit to all aspects of the military."
Billion-Dollar Center
The National Guard first started training at Fort Indiantown Gap in 1933.
The site was completed as a military reservation in 1940 and soon leased to the U.S. Army for a National Guard post, then used for training during World War II. A formal dedication took place on March 3, 1941, at the fort where there were 1,400 buildings, including almost 800 temporary barracks, fire stations, guesthouses, chapels, service clubs, theaters, a sports arena and a hospital, along with Muir Army Airfield.
Today, approximately 2,200 people work at the Gap, which is home to the Eastern Army Aviation Training Site, a helicopter training center, educational complex for combat arms training through the 166th Regiment and Northeast Counterdrug Training Center.
"A conservative estimate to replace the facilities we have on our ground is $1 billion," David Weisnicht, the Gap's deputy base operations manager, said.
"That's with a 'B.' That is a tremendous amount of investment that the United States, the Army has invested in this piece of Pennsylvania."
Fort Indiantown Gap is used by the 19,800 members of the Pennsylvania National Guard — 15,800 Army and 4,000 Air.
The 2-104th General Aviation Support Battalion, 876th Engineer Battalion, 121st Transportation Company, 28th Military Police Company and 252nd Engineer Company National Guard units are located in Johnstown and the immediate vicinity. They are joined by the Army's 458th Engineer Battalion and MWSS-471 Detachment A, a Marine wing support squadron, from the Reserve.
'Guard Comes Third'
Citizen-soldiers must work to successfully incorporate the one weekend a month and two weeks a year that they spend in National Guard training at the state-of-the-art Gap into the rest of their lives — and time with family, friends, their jobs and personal activities.
"Essentially, the family always comes first," Carrelli said. "The civilian job normally comes second, and the Guard comes third. We understand that. But we've got to have a relationship with a guardsman's family and we've got to have a relationship with the guardsman's supporters, too. If we're going to be able to make this work and we're going to have the guardsmen balance their lives, we all need to be in concert with each other."
Trying to achieve that balance has become more challenging in recent years as the Guard and Reserve units have taken on larger roles in military operations. About 45 percent of the total force sent to Iraq and Afghanistan came from the Guard and Reserve, compared to almost exclusive reliance on active-duty personnel during Vietnam.
"When you think of it, in today's world, the people who are in the Guard and Reserve are basically balancing their family life, their civilian life and their military life," said Marty Kuhar, chairman of the six-county ESGR Mountain Area Chapter that includes Cambria, Bedford and Somerset. "Very few generations have ever had to do that. This is an extremely great generation of young people who have to do this balancing act. They are defending our country. There's no doubt about it."
This article is written by Dave Sutor from The Tribune-Democrat, Johnstown, Pa. and was legally licensed via the Tribune Content Agency through the NewsCred publisher network. Please direct all licensing questions to legal@newscred.com.
© Copyright 2019 The Tribune-Democrat, Johnstown, Pa.. All rights reserved. This material may not be published, broadcast, rewritten or redistributed.