How's the josh, Delhi? Wherever we put the question, the response was, as you'd expect, HIGH!
For Delhi Police, R-Day security prep begins on Jan 1

As Delhi gets ready to celebrate Republic Day today, the Delhi Police and Traffic Police have been readying for the day with traffic restrictions, security checks at markets, barricading New Delhi district and putting up signs for alternate routes since the New Year began. For the first time, face-recognition cameras have been installed at Rajpath to identify criminals. Also, like during New Year's, the police has collaborated with Google Maps to help commuters navigate blocked routes around Rajpath and India Gate.

Security personnel's workday begins at 3am
Today, over one lakh viewers will head to Rajpath to see the Republic Day Parade, and facilitating their movement is the Delhi Police's job. Madhur Verma, DCP, New Delhi, says, "Facilitating viewers is almost the last stage of R-Day security. For us, R-Day preparations begin after January 1. The working hours of the nearly-25,000 personnel on R-Day security extend to 13-14 hours during this period – their workday begins at 3am. Our main focus is on increasing the visibility of Delhi Police in all areas. Patrolling, market checks, clearing parking zones, instructing hotels – we have to maintain security at multiple levels. We have installed face-detection cameras at 30 points along Rajpath and the route taken by the parade. We have also installed anti-drone devices on building terraces in key areas. However, after issuing an advisory, no drones have been spotted." The police also releases advisories in newspapers and on its social media to ensure Delhiites' support in maintaining security. Traffic advisories are also issued for updates on traffic routes.

Which metro exits are shut, which are open:

To prevent swelling crowds around Rajpath today, Udyog Vihar and Central Secretariat Metro stations will be closed from 6am to 12pm, and Patel Chowk and Lok Kalyan Marg Metro stations will be closed from 8:45am to 12pm. Exit points of other stations, like Rajiv Chowk, Red Fort and Mandi House, will be monitored. Verma adds, "To avoid inconvenience on R-Day, we appeal to Delhiites to use public transport. We have not closed any exits at Rajiv Chowk, but if the crowd swells like New Year's, we'll have to do so."
How many of us get to make history?: Assam Rifles' women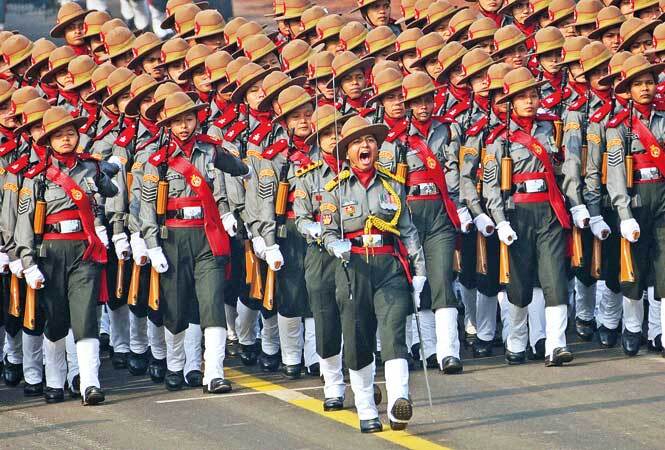 The all-women contingent of the Assam Rifles, which will be marching down Rajpath today, can barely hide its excitement. They're "honoured" to be the chosen ones for this first-time event.

Dream come true

This all-women contingent has 144 rifle women, who have been preparing for the parade since last July at the Assam Rifles Training Centre and School (ARTC&CS) at Shokhuvi, Nagaland. They follow the same routine as their male peers, including 40km runs. Rifle Woman Sunita Thapa from Manipur is carrying her husband's legacy forward, while 22-year-old Emica Mary Pasi of Meghalaya, who couldn't make it to Rajpath during her NCC days because of her height, is overjoyed. Emica says, "I came for the NCC Camp four times, but couldn't get a chance to march at Rajpath. That long-cherished dream has finally come true."

Captain Ruchi Pathak, 28, an Indian Army officer on deputation with Assam Rifles, and one of the contingent commanders, says, "I'm just two-and-a-half years old in the service, maybe that's why I'm so excited. I used to work as a software engineer in Chennai, but I was so bored that I couldn't think of doing that my whole life. Then I applied to the Indian Army. It was during my interviews that I realised this is what I wanted to do with my life – wear the uniform of the Indian Army and serve my country. It might sound odd, but even now I get goosebumps seeing the stars on my shoulders. This feeling that we're the chosen ones as the first Assam Rifles women's contingent at the R-Day parade is beyond words. How many of us get a chance to make history?"
Republic Day Camp is goal from Day 1 in NCC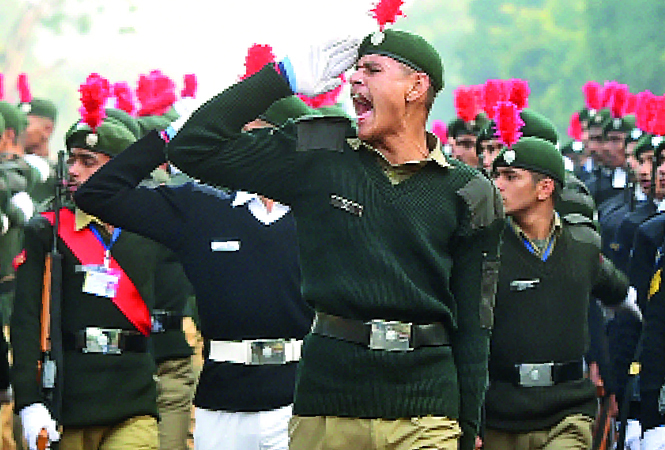 For any NCC cadet, the biggest achievement is to get through the Republic Day Camp (RDC). And while many students their age prefer to enjoy the holiday, the cadets get up at 1.30am for a month to practise for the parade. A visit to RDC at Cariappa Parade Ground shows the josh, dedication and hard work that NCC cadets put in for this opportunity.

'This is our way of showing our patriotism'

Speak to any cadet at RDC and you'll get a similar response: "These hardships teach you to be strong in life." Nishkarsh Malviya, a second-year student of Delhi College of Arts & Commerce, says, "Being part of the parade is a feeling of immense pride for each cadet at RDC. This is our way of showing our patriotism. With our motto – Unity and Discipline – we are always taught to keep the nation first, and RDC has taught me that a human body can do anything if you have willpower. I feel honoured because only a few make it till here. The rigours of the routine have changed all of us a lot."

'Fauji life has taught me to live to the fullest'

The struggle to get through to the RDC starts from Day 1 of NCC. "I wanted to experience this adventure. This month has been the best month of my life. From waking up at 3am to not sleeping sometimes, motivating each other and boosting each other's confidence, I don't think it could have been better. I worked really hard to become the best cadet for Delhi Directorate. It gives me immense pleasure to represent Delhi along with 16 other states. This fauji life has taught me to live to my fullest, be honest to my duties, work hard," explains Mehak Saini, a second-year student from Lady Shri Ram College for Women. Manisha Dangi, a third-year student of Kamala Nehru College, adds, "After joining NCC, RDC was my ultimate goal. This camp has definitely helped me shape my personality and now I feel I've achieved something in life."
Not even close to watching on TV: R-Day Parade audience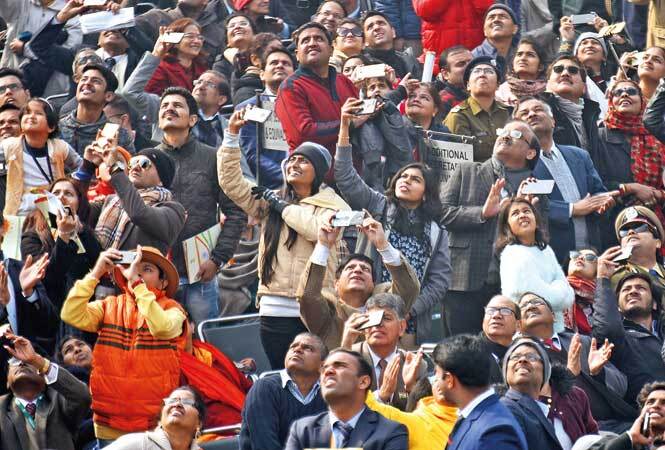 Apart from the families of participants, the Republic Day Parade is attended by enthusiastic citizens who wake up at the crack of dawn, wait hours in line, and brave the cold and rain just to be close to the action. Why do they do it? Rajeev Kumar, a marketing professional who attended several parades as a kid, says, "The queues and the weather don't matter. There is so much energy in you when you're there, and the feeling of patriotism doesn't let you get tired."

Noida's Rahul Arora, who has been attending for four years, tells us, "The unreserved seats – which are on first-come-first-served basis – are priced between Rs 20 and Rs 100, but the limited reserved seats cost Rs 500. They are closer to the main stage but you can only buy one ticket per person. My friends and I line up outside Parliament House at 7am on the first day of sales. Even an hour's delay means you'll miss out on the good seats. But it's all worth it. When you watch the parade, it brings tears to your eyes." Saithan, who stays near Race Course Road, has been attending the parade with her kids for five years now. "My kids, now 15 and 12, asked me five years ago if they could attend the parade instead of watching it on TV. I thought it was just to show off to their classmates, and that they'd definitely say no after having to wake up at 5am. Then, we had to walk for more than 2km to reach the gate and stand in queue for an hour. But they were still excited. When the programme began, we realised what we watch on TV can never be as good as being there," she says.
Films add deshbhakti to school performances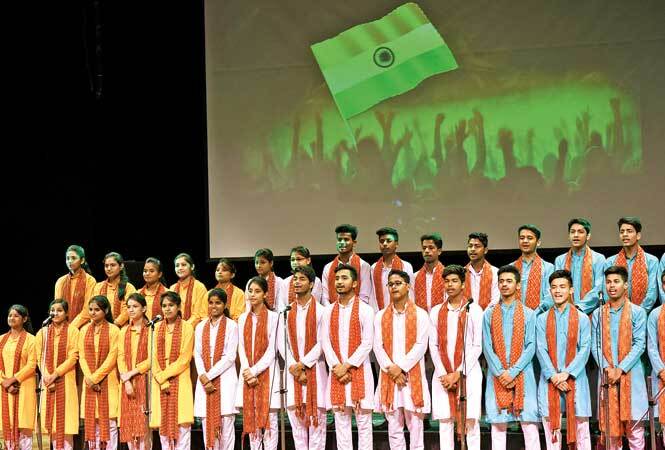 From Ae Mere Watan Ke Logon to Bharat Humko Jaan Se Pyara Hai, the playlist for patriotic songs has been readily provided by films. They might play on loop in your neighbourhood, or, as with Delhi's schools, add fervour to students' performances on Independence Day and Republic Day.

For schools, from old bollywood to the new 'Ae watan, watan mere'

Today, while some schools like Modern School and Shri Ram School have decided to forego filmi songs, others like DAV Public School, Vasant Kunj, have a set with classics like Vande Mataram. And for a number of schools, last year's hit Raazi has given a "simple and catchy" tune with Ae Watan, Watan Mere Aabaad Rahe Tu. Nisha Singh, junior school teacher at a Kendriya Vidyalaya in Delhi, says, "Not just our school, but a number of government schools have performances on Ae Watan because students already know this song. They don't need to work extra hard on getting the tune or the lyrics right, because the song is fresh in their minds, and it's catchy too." A representative from Shiv Nadar school adds, "We have chosen Ae Watan because of its simplicity, and it immediately connects with the students." A music teacher says, "When we were finalising a song for Republic Day, I had to go with Ae Watan because my students didn't give me another choice. It was the unanimous choice."
'From different states, we stand united at parade'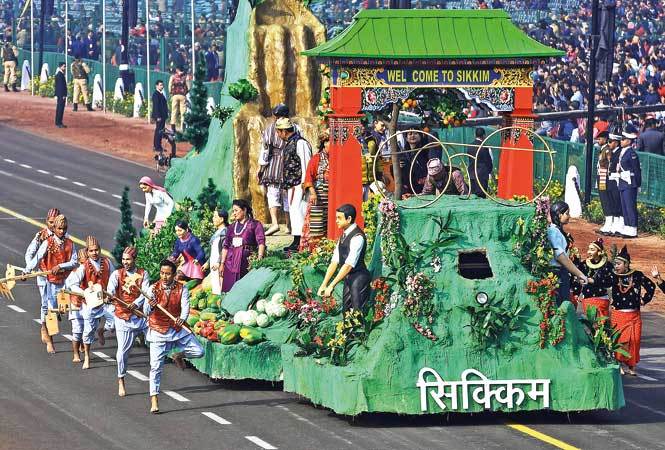 Ever since she got into the Indian Railways in 1998, MV Soundari, who is a classical singer, tried to get selected for the Railways tableau for Republic Day. Luck didn't favour her, but this year, also her retirement year, she finally made it. "This the best send-off gift that I could have got. My 85-year-old mother has patiently waited for this day. Years ago, after one of my performances, she asked me, 'Tu 26 January ko kisi jhanki mein nahi ja sakti kya? Mere liye toh sabse badi performance woh hogi.' Now that my mother will finally watch me on TV, I feel accomplished," says 59-year-old Soundari, who will be a part of the Indian Railways tableau that will present the journey of Mahatma Gandhi.

There are hundreds of performers from across India who have been working for more than a month to perform with the tableaux that are one of the highlights of the R-Day Parade. For most of them, it's a first. "More than me, my family is excited to watch me on TV. Though I don't know if they'll be able to see me, but for them to even say, 'our son is a part of Republic Day Parade' is a great deal," says Pankaj Kaushik, a theatre artiste and dancer who's a part of the Delhi tableau. "I've performed in a number of plays, but the feeling that I get here can't be put in words. Jab log seetiyan aur taaliyaan bajate hain jhaanki dekhke, toh lagta hai ki sabse bada reward yahi hai artiste hone ka," says Aayush Kumar, who is also a part of the Delhi tableau. For Pramod Kumar and Ramayan Tiwari from the Uttar Pradesh tableau, the biggest opportunity is to perform for an audience that includes the Prime Minister. "To know that the PM is watching us perform is a big thing for us," says Pramod.

For performers who have come from different states, being here helps them interact with other artistes. "We get the feeling that we are one and we stand united as Indians when we all line up together to present our states on January 26," says Ranjeet Gogoi, a choreographer from Assam.

— Divya.Kaushik@timesgroup.com,
Niharika.Lal@timesgroup.com, Riya.Sharma@timesgroup.com

and Abhimanyu.Mathur@timesgroup.com